Geek Offices Needed A New Website Design. Now We Have One.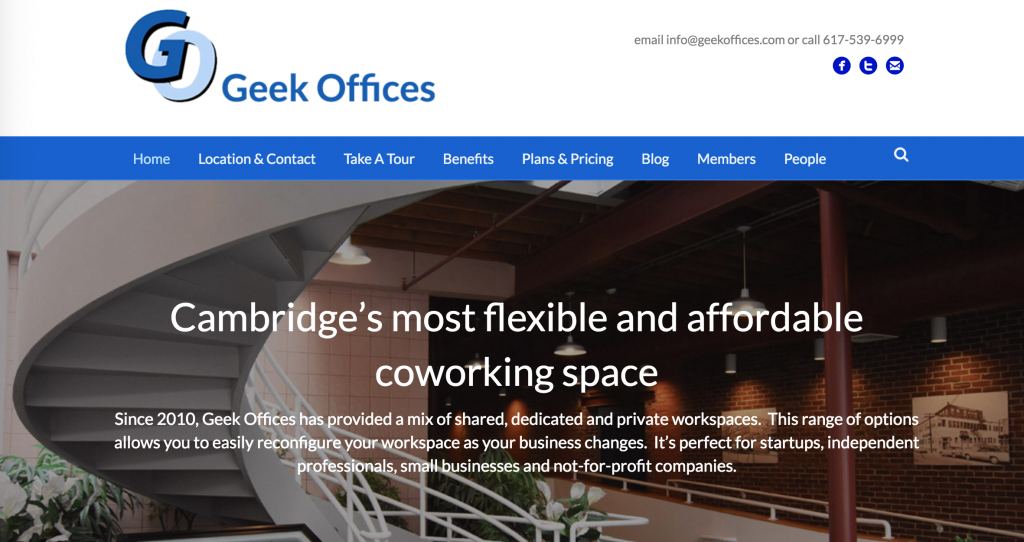 While Geek Offices is one the most affordable coworking sites around Cambridge, our website was vintage 2011 and nearly impossible to read on a phone.  With numerous new coworking spaces coming to Cambridge since Fairlane Properties started Geek Offices in 2010, we needed to up our marketing game. Our Craiglist, Google Adwords and Yelp listings were attracting a lot more people who wanted to work on our website than wanted to use our coworking space.  And the Google Adwords' Dashboard was telling us that over 50% of our views and clicks were from phones.
We finally decided to spend the time for the redesign when one of our members, Doug Feinburg of Thunder Sky Pictures, provided a proposal and suggested that he would ask our coworking members to be in our photos.  Doug also suggested that providing lunch from All-Star Sandwich Bar in Inman Square would entice members to be around at the exact time of the photoshoot.  We wanted the website to focus on our funky, former shoe manufacturing mill building, our emphasis on private, dedicated workstations and offices (instead of seats at dedicated Ikea tables like some other coworking spaces offer) and our talented members.  www.geekoffices.com has been relaunched.  So check us out and see that a 5 person company can receive 5 dedicated workstations for an average of $215/month per person!